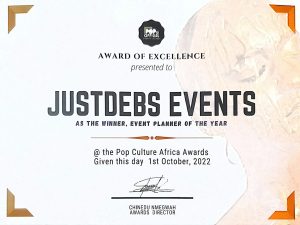 Get in touch with JustDebs Events today or submit a business inquiry online.
JustDebs Events !!!!!
You guys rock! From beginning to end of the planning of our wedding event, you made us feel comfortable and confident. Working with you not only brought us the experience we were looking for; but enriched our faith in professionalism.
All the skills that are necessary in your field were very apparent throughout a process that can be intimidating and anxiety ridden. You and your staff not only know the intricacies of planning such events, but your people skills generate good will at every turn.
You are well placed in your industry, and I would highly recommend you to anyone that would listen!
Thank you for your contribution to a happy memory.